Call us at 708-633-5040.
The receptionist will ask for your name, phone number(s), size of family, address or township of residence and what type of service is needed. A case manager will return your call.
Mission of Together We Cope
The mission of Together We Cope is bridging the gap for Southland residents in temporary crisis by providing food, shelter, clothing and referrals, empowering them to return to self-sufficiency.
Urgent services
• shelter assistance
• flood- or fire-victim assistance
• medication assistance
• domestic violence assistance
Financial services
• housing assistance (rent/mortgage/security deposit)
• utilities assistance (gas/electric/water)
Non-financial services
• food
• clothing
• transportation
• referrals and resources—including referrals to the Hub, a centralized information and resource network for social services in south suburban Cook County.
Service hours
Our Client Service Center is open from 9 a.m. to 3 p.m. Monday, Tuesday, Wednesday, and Friday; and from 2 p.m. until 7 p.m. on Thursdays. TWC is closed on Saturdays and Sundays.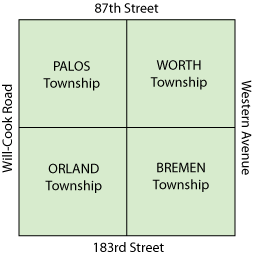 Communities in our service area
The service area of Together We Cope is bounded by 87th Street on the north, Will-Cook Road on the west, 183rd Street on the south, and Western Avenue on the east (with the Mount Greenwood area excepted because it is part of the City of Chicago). Our service area includes the townships of Bremen, Orland, Palos, and Worth. We serve Alsip, Chicago Ridge, Crestwood, Evergreen Park, Hickory Hills, Hometown, Merrionette Park, Midlothian, Oak Forest, Oak Lawn, Orland Hills, Orland Park, Palos Heights, Palos Hills, Palos Park, Posen, Robbins, Tinley Park and Worth.
*****************************************************************************
Out of our service area?
If you do not live within our service area, we suggest that you call your township office and local churches. If you live in suburban Cook County you can also call the Homeless Prevention Center at 877-426-6515. Chicago residents can call 311.
FEEDING ILLINOIS PARTNER AGENCIES
You can locate your nearest Feeding Illinois partner agency and its hours of operations. Just choose your county and if that returns too many locations to choose from, narrow it down by entering your zip code.  http://feedingillinois.org/need/
GREATER CHICAGO FOOD DEPOSITORY AGENCY LOCATOR
Enter a zip code to find a food pantry, soup kitchen or shelter in Cook County or scroll down and click on the map for an agency near you.  http://www.chicagosfoodbank.org/site/PageServer?pagename=member_need_food
DIRECT2FOOD (discontinued)
As of January 1, direct2food.org services have been discontinued. For available food resources in Chicago, please visit the following sites:
Greater Chicago Food Depository, IL Food Assistance Program (SNAP)
NORTHWEST INDIANA FOOD PANTRIES
For pantry listings please contact the Food Bank at 219-980-1777. The agencies are located in the following communities: LAKE COUNTY—Cedar Lake, Crown Point, East Chicago, Gary, Griffith, Hammond, Hebron, Highland, Hobart, Lake Station, Lowell, Merrillville, Munster, Winfield.  PORTER COUNTY—Chesterton, Portage, and Valparaiso.  http://www.foodbanknwi.org
DIRECT2HOUSING
Direct2Housing is a tool that allows you to search for housing information on your own.  http://direct2housing.org/
SOUTH SUBURBAN PADS
South Suburban PADS provides shelter and supportive services to homeless persons. Address: 414 West Lincoln Highway, Chicago Heights, IL 60411, 708-754-4357  http://www.sspads.org/