Need help? Call (708) 633-5040.
Before you call or visit, check Together We Cope's Client Services hours. Call during regular business hours. A receptionist will ask for your name, phone number(s), size of family, address and which type of help you need. A case manager will return your call.

Urgent services
shelter assistance
flood- or fire-victim assistance
medication assistance
domestic violence assistance
Financial services
housing assistance (rent/mortgage/security deposit)
utilities assistance (gas/electric/water)
Non-financial services
food
clothing
transportation
referrals and resources
The mission of Together We Cope is bridging the gap for Southland residents in temporary crisis by providing food, shelter, clothing and referrals, empowering them to return to self-sufficiency.
"Very nice people willing to help you with your situation or problem." — Lynn
Bring your ID
Bring an ID and a piece of mail, postmarked within the last 60 days that shows your current address. Individuals residing within our service area are eligible to receive groceries for themselves or their families once a month.
Individuals who do not live within our service area are allowed one bag of emergency food, one time per year.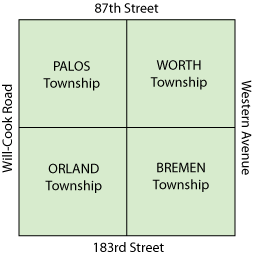 *****************************************************************************
Do you live outside of our service area?
Click here for Townships outside of TWC's service area.

[TWC Homepage]    [Nu2u Homepage]


Together We Cope assists neighbors in need in four townships. Our service area is bounded by 87th street on the north and 183rd Street on the South. Our east/west boundaries are between Will-Cook Road (County Line Road) on the west and Western Avenue on the east. Residents of this area (excluding the Mt. Greenwood neighborhood) are eligible for assistance from Together We Cope.