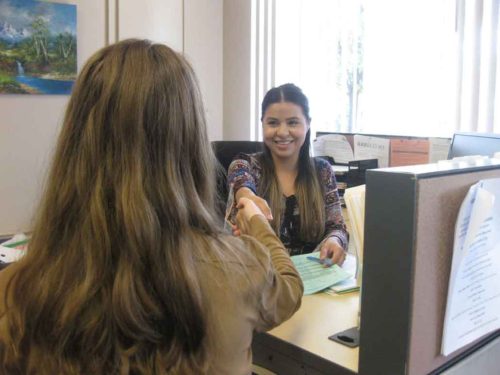 When you help support Together We Cope, you strengthen the south suburban community.
Click here to subscribe to our online newsletter, it's free!
Donate online or by mail 
Live in this community? Support the community with a donation to Together We Cope. All donations are used to benefit your neighbors in 27 south suburban communities in Bremen, Orland, Palos and Worth townships. Click to donate online or send a check to: Together We Cope, 17010 So. Oak Park Ave., Tinley Park, IL 60477
Help feed 5,000 people a month
Drop off a bag of groceries, or get your church, school, business or organization to host a food drive. We will provide bins in advance and pick them up when you're done. Learn more about our food pantry.
Recycle your sweater, coffee maker or couch
Next time you clean out a closet or cabinet, bring your clothing, housewares, decorations, even furniture to our resale store, Nu2u. Learn more about our thrift store.
Share your talents with us
Make a real difference in your community by sharing your time and talents in the pantry, resale store, or at one of our special events. Learn more about volunteering for Together We Cope and Nu2u Resale Shop.
Help others by attending our next fundraiser

Hit a few at 'Luck on the Links'
Enjoy a pleasant afternoon at our annual golf outing Wednesday, June 6, 2018 at Odyssey Country club in Tinley Park. It is the most popular golf outing in the south suburbs. People always tell us they have a lot of fun at our golf outing. It's a chance to enjoy a great day of golf while you support a really good cause. Participants can enjoy lunch, 18 holes of golf and dinner for $150 per person. Golf-only reservations are $120 per person, and Dinner-only reservations are $50 per person.
Dinner is scheduled for approximately 5 p.m.
On-course golf registration begins at 10:30 a.m.
Shotgun start will be at 11:30 a.m.
Fun Las Vegas games! Raffles! Exciting Prizes!
New this year: All on-course games are included in ticket price.
Reservations are "First Come, First Paid."
Payment must be received by May 25, 2018.
Click here to RSVP or get sponsorship information online. If paying by check, make checks payable to Together We Cope, at 17010 S Oak Park Ave, Tinley Park, IL 60477 For additional information contact Kathy Rogge at krogge@togetherwecope.org or (708) 263-0302, ext. 6101.
Find the deal of the day at our thrift store, Nu2u Resale Shop
With donations coming in daily, the store draws collectors, bargain hunters and smart shoppers. All proceeds support Together We Cope. Click here for our thrift store hours and location.
Support local kids
Our Back to School program equips hundreds of children for the new school year by distributing new backpacks and school supplies every August. Santa's Workshop (formerly Adopt a Child) distributes toys and more at Christmas time for children and teenagers. For more information about Back to School or Santa's Workshop, phone Marge Seltzner at (708) 263-0302 ext. 6111, or Tina Kessens at (708) 633-5040, ext. 7231.