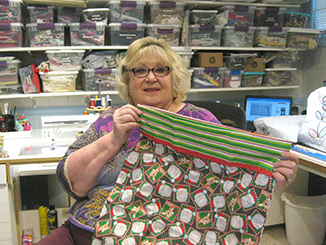 Karen Persing was sitting in her home in Oak Forest one morning, quietly reflecting on how blessed she was when she realized she wanted to give back to her community. Using her gift of sewing, Karen creates beautifully handcrafted items such as purses, bags, wallets, aprons, home décor and more. This holiday season, Karen, with the help of volunteers, plans on donating 200 homemade holiday pillowcases to Together We Cope's Christmas Program.
See what led Karen Persing to Together We Cope and how her pillowcases will help our neighborhood families for the holidays.
How long have you been sewing?
I have been sewing for over 20 years. Growing up, I would watch my mother sew which sparked my interest in the craft. When she passed away, she left me some money which I invested in my first sewing machine in her honor. The more I sewed, the more I enjoyed it. I make all my Christmas presents for my family. I really love doing it, it keeps my mind healthy!
What made you think of Together We Cope?
A friend of mine donates food and various items to the resale shop. I drive past Nu2u all the time. I did my own research, saw how Together We Cope is helping everyone in my own community and thought this is the perfect place.
Tell us a little bit more about this holiday pillowcase project
Once I decided I was going to donate my time, I called Together We Cope and spoke to someone about coming up with ideas to help children through TWC's Christmas program. She suggested that the pillow cases I was planning to make would be a cute way to package pajamas that TWC gives to children at Christmas.
Do you need more volunteers or holiday fabric?
YES! The more volunteers I have and the more fabric donated means the more pillowcases I can donate. I am looking for people who can sew and help make the pillowcases. I already have 12 boxes of fabric donated from a Facebook sewing community, where 18 ladies responded to my request for help. My husband Tim is cutting all the fabric, making each kit for me and the volunteers. The sewing community is very giving.
Interested?
If you are interested in volunteering your time and your sewing talent to this project, please contact Karen Persing directly at kraftykaren@att.net.
To see more of Karen's handmade creations visit her online shop at Etsy. at www.etsy.com/shop/HandKraftsbyKaren.
[TWC Homepage]     [Nu2u Resale Homepage]