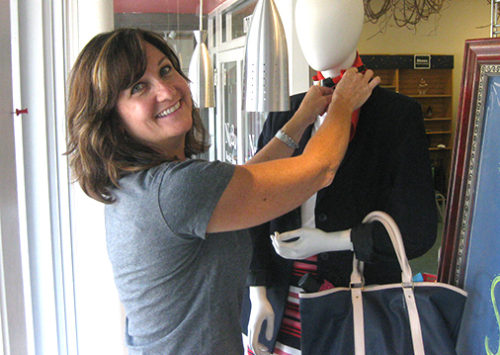 Our annual Back to School program was a joyful and successful event for staff, volunteers and hundreds of children who received new backpacks and student school supplies to start the academic year equipped for success.
Because of generous donations from the community, TWC was able to purchase the backpacks and student school supplies for children of clients being served by our agency. Various hair salons in the community also provide gift cards for free haircuts to all of the children, and TWC distributes new children's books that have been donated.
Staff at Nu2u, TWC's resale shop, have decorated the window space at the store with a back to school theme, inviting parents to come in and browse the gently used clothing needed by youngsters returning to the classroom. Trina Arvetis, store manager, said donations of gently used children's clothing are always needed and can be brought to the back door of the store during business hours. The store also will accept used backpacks.
"It's a joy to see the excitement of the children as they receive their backpacks, supplies and books. It's such a positive way to start a new school year, and we are grateful for all in the community who make this possible each year," said Kathryn Straniero, executive director.
Further information on TWC's Back to School program is available from Tina Kessens at 708-633-5040 ext. 7231.