Together We Cope Helps
Together We Cope helps families in 27 communities in Bremen, Palos, Orland and Worth townships, bridging the gap in a number of ways to help them return to self-sufficiency. By enabling our neighbors to stay in their homes during a temporary financial crisis, it makes the community stronger for all of us.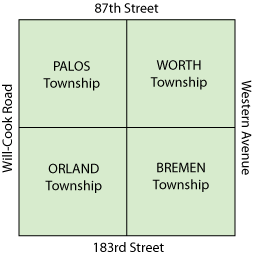 Together We Cope helps
• recently unemployed workers
• elderly and disabled people on fixed incomes
• grandparents unexpectedly raising children again
• victims of fire and other disasters
• single parents trying to make ends meet
• people facing catastrophic medical expenses
• underemployed workers without benefits
Together We Cope helps your neighbors in 27 communities in Bremen, Orland, Palos and Worth townships
Alsip, Blue Island, Bridgeview, Chicago Ridge, Country Club Hills, Crestwood, Evergreen Park, Garden Homes, Harvey, Hazel Crest, Hickory Hills, Hometown, Homewood, Markham, Merrionette Park, Midlothian, Oak Forest, Oak Lawn, Orland Hills, Orland Park, Palos Heights, Palos Hills, Palos Park, Posen, Robbins, Tinley Park, and Worth
Click here to subscribe to our online newsletter, it's free!
******************
With only $2.14 left in bank, single mom finds help at Together We Cope
Anna lost her job and had only $2.14 left in her checking account, she and her 12-year-old son were sleeping in the car, she'd had knee surgery only a few months earlier, and then her car was totaled in an accident.
It was a long run of bad luck. She lost her job in March and was evicted from her apartment in April, the same month she had surgery. She and her son were allowed to stay with her parents only until she healed in May, as there was no room for them. They went to a friend's home briefly, but then the auto accident happened in July. She received an income tax return check but had to use it immediately to buy a used car. By mid-summer she and her boy were sleeping in that car. They had some SNAP food benefits, some child support, and a little emergency cash assistance from a state program that she'll receive for a full year. She came to TWC in August, where she got emergency food and clothing the same day. Then, at last, things started looking up for this little family.
Our first priority was to get housing for Anna and her son. She'd managed to keep him in the same school he'd always attended, despite all of the crises in their lives. Driving him to school one day she saw a two-bedroom apartment for rent nearby, and told us about it. That same week she interviewed for a job and was hired, but had no funds for a security deposit and first month's rent on the apartment. TWC was able to pay those costs for Anna, and she began retrieving her possessions from friends' garages to set up her new home. TWC added some household goods, then outfitted Anna for her new job. Her son received school clothes from our resale shop, and a new backpack stuffed with school supplies in our Back to School program.
Anna has a new home, a new job, a balanced budget, a mended knee, and some new friends at Together We Cope who continue to look out for her and her child. Life is good again, she reflected recently, and she is working hard to keep it that way!