A Tinley Park resident for 17 years, Vernadean Sweat believes that "knowing you can help someone is one of the most rewarding experiences in life."
Fortunately for Together We Cope, she has been helping people through our agency since 2013 and now has been named a member of TWC's board of directors.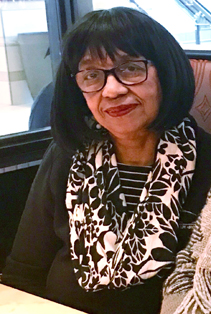 Originally from Chicago's south side, Vernadean had a very successful career in facilities management first with Quaker Oats, then PepsiCo, for 34 years. Upon retirement, she "relaxed a bit at first, did some projects around the house, and then started looking for something worthwhile to do" in her community, she said.
"I used to drive by Together We Cope and was curious about the people lined up there seeking assistance, and I asked around about the agency. Then, someone recommended TWC as a good place for me to volunteer if I wanted to be involved in my community," she recalled.
Vernadean was placed in our agency's fundraising department, working with staffer Karen Moran on many events. "It quickly became a passion for me, especially because Together We Cope truly gives back to the community in so many ways," she said.
Vernadean already was serving with TWC's Ambassadors (click here to see a story about that group) when she was tapped for the board position. "I'm getting a lot from serving on the board of directors so far," she said. "It's a privilege to be able to help someone in need and make a difference in their life. And I feel very good about being part of something that is so meaningful."
In her retirement Vernadean has enjoyed spending more time with her son and grandson, and also is active with Zion Lutheran Church in Tinley Park.
[TWC Homepage]    [Nu2u Homepage]


Together We Cope assists neighbors in need in four townships bounded by 87th street on the north to 183rd Street on the South, and between Will-Cook Road (County Line Road) on the west and Western Avenue on the east. Residents of this area (excluding the Mt. Greenwood neighborhood) are eligible for assistance from Together We Cope.