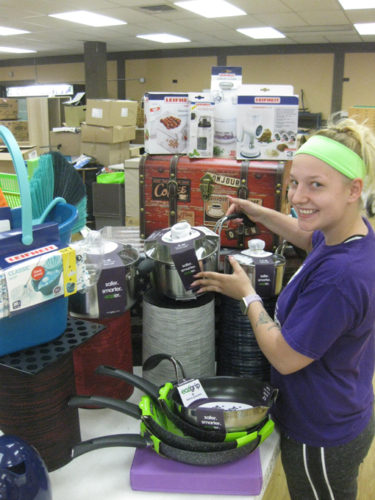 One woman came to Together We Cope's housewares pop-up shop last year with a list of things she wanted to purchase, but found the dazzling display of fresh new ideas in home furnishings to be so interesting that she ended up with a whole new agenda.
For those who had a similar experience last year, have we got a surprise for you: This year's pop-up shop is triple the size of last year's sale! We'll offer hundreds of new items that were featured at the 2018 International Home and Housewares Show at McCormick Place, all at deeply discounted prices. Theme of this year's sale is "Treasures Create a Home" and many little treasures can be found during this event.
The two-day sale is Saturday, June 2 from 10 a.m. to 5 p.m. and Sunday, June 3 from noon to 4 p.m. It will be at 8600 West 159th Street in Orland Park, in the Seville Plaza. The pop-up shop is in the former site of Orland Park Wine & Spirits, in the same plaza where Mayan Palace is located.
Together We Cope was honored to be designated again this year as one of only five charities to receive exhibitor donations at the close of the housewares show in March. This influx of material generates significant income for our agency to continue its mission of assisting families in crisis in the south suburban region. All proceeds of the sale are used to fund various client programs at TWC.
Items donated from show exhibitors include dishware, glassware, cookware, small appliances, furniture, knick-knacks, car cleaning supplies, pet supplies, dollar store items, and much more. Many different brands are offered, and all items are new to store shelves this year.
More information on this year's sale is with Trina Arvetis, manager of Together We Cope's resale shop Nu2u, at tarvetis@togetherwecope.org or 708-633-9180.
Shown here is Trina Arvetis, manager of Nu2u, preparing some items for sale at the pop-up shop.