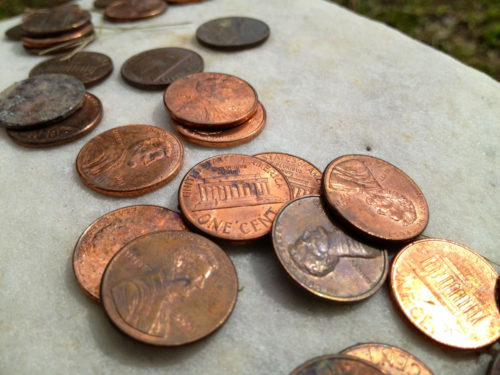 It started mysteriously one day last fall when Nancy pulled up to her garage and noticed a couple of pennies lying on the ground. She picked them up and wondered where they came from, what it could mean. The next day there were more pennies, then still more the day after that. The total was anywhere from 12 to 50 each day and it would continue for months. Once, when she was away for a few days, she returned to find a big bunch of pennies had gathered in her absence as if they'd multiplied each day.
"I started asking my neighbors about it, but nobody had ever heard of such a thing or experienced it at their homes. I have great neighbors, and it became a joke as each pointed the finger at the other," she recalls. So Nancy posted her story about her "Penny Fairy" on Facebook, and got lots of responses and "pennies from heaven" comments. She vowed to her family and friends that she'd match the pennies and make a donation to Together We Cope, her favorite charity, in support of the agency's Christmas program. That's when the pennies really started pouring in!
So many pennies showed up outside her garage that some got frozen to the ground and she had to work to free them. One person left a whole roll of pennies with a note that said Nancy was getting too thin from bending over to pick up pennies. Facebook friends started sending her money, a friend from Texas sent a check, family and friends contributed. When she told her story at a townhome association meeting, a lady gave her a dollar for the campaign.
Because of the mysterious penny windfall and Nancy's matching donation, plus contributions from family and friends, Nancy was able to give Together We Cope a total of $405 for our children's Christmas program. "It's been a lot of fun, but I hope the pennies stop now," she laughed as she told her story.
[TWC Homepage]   [Nu2u Resale Homepage]