Together We Cope and Nu2u Resale Shop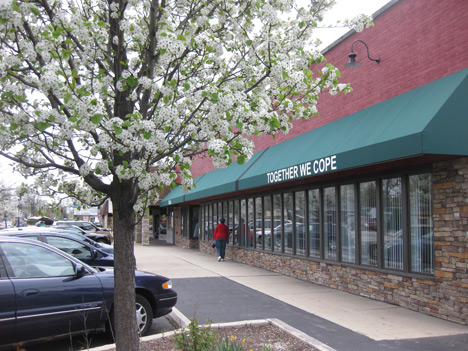 Recession of 1982
The closing of steel production plants was one more development in the recession of 1982 that plunged many south suburban families into financial distress and poverty. In response, Oak Forest resident Lorraine Cook founded Together We Cope in 1982. She began by collecting clothing for a family in need in her neighborhood, but the effort grew as the need increased and donations poured in.
Storefront in Oak Forest
As her garage overflowed, Lorraine moved the operation several times within Oak Forest, eventually moving to a storefront in 1989. With a generous heart and a sense of purpose to lend a helping hand, Lorraine soon attracted like-minded individuals in the community to donate their time and talents to her project.
Incorporation in 1989
Board of Directors organized
Lorraine organized a board of directors and applied for incorporation in Illinois in 1989. As a 501 (c) (3) not-for-profit corporation, it was possible to apply for federal, state and county funding.
Joined Greater Chicago Food Depository
Also that year, Together We Cope became a member of the Greater Chicago Food Depository and started placing orders as donations allowed. Even with continued support of local churches, businesses and neighbors, Together We Cope struggled with increasing demand for food from area families in distress.
Resale shop added in 1993
In 1993, after another move to larger offices in Tinley Park, Lorraine established a resale shop adjacent to the office. The  thrift store was expected to generate funds for the agency's programs and allow clients to shop for clothing and household items at no charge using a credit voucher system. Sadly, Lorraine passed away a few months after the Sensible Resale Shoppe opened. Her niece, Joyce Uthe, took over and the agency moved to a strip mall in Tinley Park.
New officers in 1998 and new building in 2000
In August 1998, Kathryn Straniero, resale shop manager, was named new executive director. Under her leadership and the guidance of the board of directors, led by Frank Trombley, Together We Cope has continued to grow.  In 2000, Together We Cope purchased a new building at its present location on Oak Park Avenue in downtown Tinley Park and renovated it with donated materials and volunteer labor. With more space, particularly for the food pantry and resale shop operations, Together We Cope was able to accommodate the increasing number of clients. Not only were more clients served, but client programs such as Back to School and Adopt a Child holiday program broke each previous year's records for donations and families served. As growth continued, fundraising strategies also escalated.
A truck donated in 2005
Together We Cope credits the agency's success to the invaluable volunteers in the resale shop and food pantry. With the donation of a truck in 2005, the shop sales soared with the ability to pick up and deliver donated furniture, as did the ability to pick up food from local restaurants and grocery stores that make generous donations weekly.
From neighbors to prevention agency
What began as a small group of compassionate neighbors has grown into the largest prevention agency in the southwest suburbs.