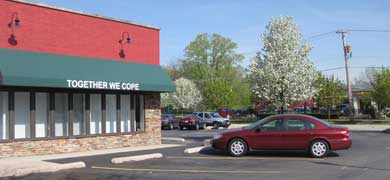 Client Services / Food Pantry
17010 S Oak Park Ave, Tinley Park, IL 60477
Phone: 708-633-5040
Fax: 708-633-8459
Hours: Mon, Tues, Wed, Fri – 9 am to 3 pm; Thu – 2 to 7 pm
Administration
17728 S Oak Park Ave, Tinley Park, IL 60477
Phone: 708-263-0302; Fax: 708-781-9499
Hours: Mon, Tue, Wed, Fri – 9 am to 3 pm; Thu – 11 am to 5 pm
___________________
Nu2u Resale Shop
17010 S Oak Park Ave, Tinley Park, IL 60477
Phone: 708-633-9180, ext. 7217
Large furniture pickups
Call Nu2u to schedule a low-cost appointment to pick-up your large furniture donation along with up to 10 bags or boxes of clothing and housewares. We will send our truck to your home. To schedule a pickup and determine the cost, call us at 708-633-9180.
Special Summer Shopping Hours
Beginning July 6: Mon, Tue, Wed, Thu, Fri – 10 am to 5 pm; Sat – 10 am to 4 pm
Special Summer Donation Hours (1 hour after opening until 1 hour before closing)
Beginning July 6: Mon, Tue, Wed, Thu, Fri – 11 am to 4 pm; Sat – 11 am to 3 pm
Bring donations to our back door and ring doorbell. Receipts are available for tax purposes. Donations are tax-deductible to the extent allowed by law. A little early or a little late is No Problem.
Please Note: We reserve the right to refuse to pick up anything that is not in saleable condition. Learn more about scheduling furniture pick-ups.
___________________
Executive Staff
Kathryn Straniero, Executive Director
Kaitlin Aldworth, Client Services Manager
George Rumbaugh, Food Pantry Manager
Linda Lopez, Director of Development
Tina Kessens, Office Manager
Meg Meyer, Volunteer Coordinator
Mike O'Neal, Communications
Kathy Rogge, Fundraising
Karen Roman, Director of Operations
Gina Rydz, Grants and Programs Manager
Marge Seltzner, Director of Communications