Need help? Call 708-633-5040.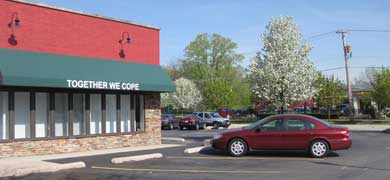 Open



Monday            9 a.m. to 3 p.m.
Tuesday            9 a.m. to 3 p.m.
Wednesday      9 a.m. to 3 p.m.
Thursday          2 p.m. to 7 p.m.
Friday                9 a.m. to 3 p.m.
Saturday           closed
Sunday              closed
Closed

New Years Day: Tuesday— Jan. 1, 2019
Memorial Day: Monday — May 27, 2019
Independence Day: Thursday — July 4, 2019
Labor Day: Monday — September 2, 2019
Thanksgiving: Thursday and Friday — November 28 and 29, 2019
Christmas: Tuesday and Wednesday — December 24 and 25, 2019
"I just want to thank Together We Cope for helping me in my time of need this is a great place that help people like myself in need of help. Again thank you from the bottom of my heart." — Jacqueline
TOGETHER WE COPE ADMINISTRATION BUILDING
Communications, publicity and fundraising
17728 Oak Park Ave., Tinley Park, Illinois 60477
Phone: (708) 263-0302,  Fax: (708) 781-9499
[Together We Cope homepage]    [Nu2u homepage]


Together We Cope assists neighbors in need in four townships bounded by 87th street on the north to 183rd Street on the South, and between Will-Cook Road (County Line Road) on the west and Western Avenue on the east. Residents of this area (excluding the Mt. Greenwood neighborhood) are eligible for assistance from Together We Cope.