Make a difference in your community!
Volunteer to help your neighbors.
It takes many people, many talents and many gifts to help our neighbors stay in their homes when a temporary financial crisis hits.
Meg Meyer of Orland Park is our volunteer coordinator where she manages the nearly 200 area residents who donate their time and talent to our agency. She previously worked in an administrative post at Sheehy Funeral Home, and has volunteered with other causes in the community. "I find it so refreshing to come to a job every day where 90% of the company is made up of volunteers who want to be here, who are not being paid," she said. She also finds TWC's staff to be "friendly, giving and compassionate." Meg and her husband, David, are parents of four children.
We could not do it without our volunteers.
In the food pantry, they make sure hungry families get nutritious food.
In our resale shop, they spot what's hot among the donations to Nu2u, create window displays, stock the shelves, perform cashier duties at checkout, and many other tasks.
At our special events, they help create an experience the community loves to support.
What volunteers say about TWC . . .
"What this agency is doing is so worthwhile. I saw people were treated with dignity, and I was impressed."—Vernadean Sweat of Tinley Park, a member of the TWC Ambassador Committee.
"I go home feeling proud that I helped feed 80 families that day."—Ed Hill of Midlothian, food pantry volunteer
"I get satisfaction out of the work I do because I know I'm helping an organization that helps so many people in so many different ways."—Jean Milligan of Posen, Nu2u volunteer
Bob and Diane Centner are 2017 Reimer Volunteer Award winners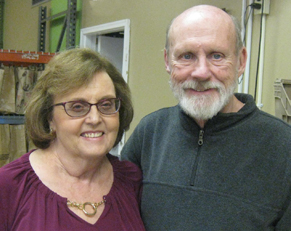 When Bob and Diane Centner retired from their careers, they looked for a way to give something back to their Tinley Park community in a volunteer capacity. They investigated several opportunities, and decided Together We Cope was just the place they sought.
They began volunteering in TWC's food pantry in 2009 and have become staples of the agency's operation. Bob remains in the food pantry, where he works tirelessly to keep the shelves stocked and to load and unload trucks. Diane moved from the pantry a few years ago to the office, where she took on new duties. "I wanted a new challenge," she said, "and I've found the office work lets you understand more of the agency's operation." Diane also volunteers for several client programs, such as Back to School and Adopt a Child, and other community events on behalf of TWC.
Ready to pitch in?
Pick a date and time that works for you and then email Volunteer Coordinator, Meg Meyer. Or, contact her by phone at 708-633-5040, ext. 7221.