Congratulations Bob and Diane!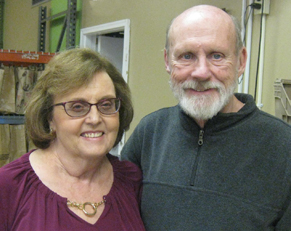 When Bob and Diane Centner retired from their careers, they looked for a way to give something back to their Tinley Park community in a volunteer capacity. They investigated several opportunities, and decided Together We Cope was just the place they sought.
They began volunteering in TWC's food pantry in 2009 and have become staples of the agency's operation. Bob remains in the food pantry, where he works tirelessly to keep the shelves stocked and to load and unload trucks. Diane moved from the pantry a few years ago to the office, where she took on new duties. "I wanted a new challenge," she said, "and I've found the office work lets you understand more of the agency's operation." Diane also volunteers for several client programs, such as Back to School and Santa's Workshop, and community events on behalf of TWC.
Bob and Diane were sweethearts in sixth grade, then went their separate ways in life. "We met up again 30 years later and eventually married," she said. Together they are the parents of three grown children and enjoy three granddaughters. Bob is retired as a supervisor of a manufacturing company, and Diane retired from Joliet Junior College where she managed employee relations.
"We are so fortunate to have Bob and Diane with us. They are wonderful representatives of Together We Cope," said Kathryn Straniero, TWC executive director.