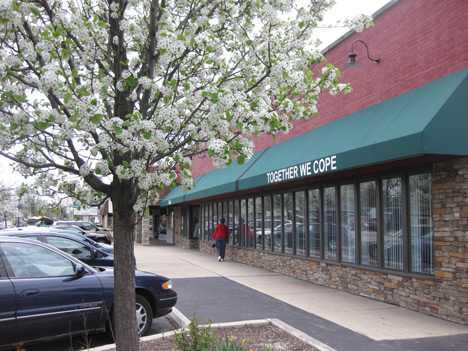 Who we are
We are a homelessness prevention agency based in Tinley Park, Illinois. We serve 27 communities in four townships in Chicago's south suburbs. Our mission is to bridge the gap for Southland residents in temporary crisis.
Community support
When you support Together We Cope, you help your neighbors stay in their homes and pay their bills during tough times. A little help makes the community better for all of us. Helping families and individuals overcome unexpected temporary financial problems is our mission. We need everyone's help to accomplish this and everyone can help in one way or another. Citizens groups, students and student groups, members of local churches and organizations, business owners and corporate managers have always been very generous to this cause to say the least. The word "Together" in our name is no accident. Working together is the only way to keep our communities strong.
What we do
With your help, we provide basic necessities like food, shampoo, diapers and clothing. We help with prescriptions, past due rent, mortgage, utility payments, school supplies and Christmas presents for children. Our efforts are aimed at preventing homelessness for hard-working families and individuals who experience an unexpected temporary loss of income. Help with food, clothing and referrals helps to prevent their homelessness because it allows more of their limited money to continue to be spent on housing, utilities, and medical needs while they work hard to get back on their feet again.
Who we help
Our south suburban service area encompasses all of Orland, Palos, and Bremen townships and includes the suburban part of Worth Township. Residents of this service area are eligible for help from Together We Cope.
Board of Directors
Our board of directors and managers provide top-notch guidance and advice.
Financial reports

Our IRS Forms 990, Annual Financial Reports, and Illinois Forms AG 990 are posted and are available online.
Charity rating
The amount of total expense that goes directly to our charitable purpose is one factor considered when an overall our rating as a charitable organization is calculated. The percentage of our total expenses spent on the programs and services we deliver is currently 89% (as of the fiscal year ending June 30, 2018). Eighty-nine cents of every dollar raised is used helping local families and individuals. Eleven cents of every dollar covers our overhead expenses.

Newsletter
Get acquainted. Read our newsletters.
"A place for people who need help on everything — food, clothes, and help on bills! Beautiful!" — Sandra