Hoping to see you at Nite Games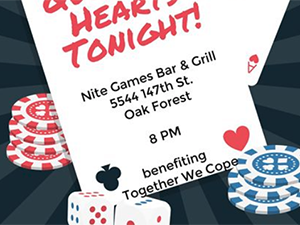 Drawings at NITE GAMES BAR & GRILL at 5544 147th St., in Oak Forest, on Tuesdays at 8 p.m. until the winning ticket is finally drawn. Winner need not be present. Click here for raffle rules and information.
Tickets can be purchased at NITE GAMES, and NU2U RESALE SHOP on Oak Park Ave during normal business hours.
Give today to our Back to School program for school supplies and backpacks for kids. Donate online or call 708-633-5040.