Food, health, and other services are often available from local churches and township offices.
Bremen Township General Assistance: offered to residents of Bremen Township who have no income or financial resources and are not eligible for Federal or State Assistance. Not available to residents in hospitals or in private or public institutions. Call 708-333-9530 for further information.
Bremen Township Senior Services: Lunch Program, Senior Wheels, Podiatrist, Board Game Days, Bingo, and more. Call 708-333-9530.
Palos Township General Assistance Department: assists township residents who are unemployed and actively seeking employment or who are in waiting for other state or federal benefits and do not have the resources to provide for basic needs. By appointment only 708-598-4418, Extension 205.
Worth Township Food Pantry: 11601 S. Pulaski Rd., Alsip. Worth Township residents may use the pantry once per month and must provide proof of residency with either a current Driver's License/State ID or a current utility bill. Monday, Tuesday, Thursday 11:30 am – 3:30 pm.  Wednesday 11:30 am – 5:30 pm.  Friday 11:30 am – 2:30 pm.
Orland Township Food Pantry: supplies food to township residents who need immediate assistance. In order to qualify, individuals must provide proof of residency and complete an application, which is available at the Township office. Call 708-403-4222. The Food Pantry is located at the Township office and is open Monday through Friday from 9 a.m. to 4 p.m.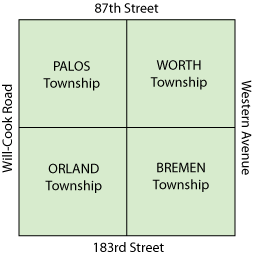 *****************************************************************************
Do you live outside of our service area?
Click here for Townships outside of TWC's service area.

[TWC Homepage]    [Nu2u Homepage]


Together We Cope assists neighbors in need in four townships. Our service area is bounded by 87th street on the north and 183rd Street on the South. Our east/west boundaries are between Will-Cook Road (County Line Road) on the west and Western Avenue on the east. Residents of this area (excluding the Mt. Greenwood neighborhood) are eligible for assistance from Together We Cope.