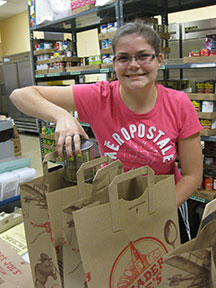 Roughly speaking the Together We Cope food pantry distributes food to 1,400 families each month, which is to say to 60 families per day, or in other words, to one family every six minutes during business hours.
Without help from friends and volunteers this would not be possible. On any given day, the pantry could be staffed by as many as 10 to 20 pantry volunteers who perform all kinds of tasks, sometimes at a frenetic pace.
Pantry volunteers working together behind the scenes make everything work.
Food pantry clients are met and greeted warmly at the door by a pantry volunteer. Data, registration, and identification are verified by other pantry volunteers at the reception desk.
Behind the pantry reception desk is a blur of activity. Incoming frozen hams, chickens, turkeys and roasts are rushed from delivery vans into freezers by pantry volunteers. Milk, heat and serve meals, and produce quickly find their places inside refrigerators. Tall racks filled with bread are rolled in and empty bread racks are rolled out.
Outside the back door, food trucks are unloaded by a team of pantry volunteers who show up on delivery days to help out. The contents are unpalletized and then moved inside. Perishables are refrigerated and non-perishables are shelved in the storage area.
In the bagging area, canned fruits and vegetables, mac 'n' cheese, beans and pasta, baking mixes, condiments, breakfast cereals and bread seem to fly off pantry shelves into grocery bags. Shelves are immediately restocked, just in time, by pantry volunteers who never stop hustling food back and forth from storage area to bagging area.
Grocery bags are quickly filled by pantry volunteers according to predetermined grocery lists based on family size and are then moved to waiting shelves.
Bags filled with groceries wait a few minutes on shelves before being loaded into shopping carts along with bread, meat, snacks, beverages and desserts. Finally, if desired, the pantry provides each client with extra bread, small amounts of fresh produce, and specialty items. Full carts are rolled out the door, headed for kitchens all over town.
Oftentimes, the doorbell rings to announce that a food donation has arrived at the back door. A pantry volunteer helps carry the donation inside and issues a receipt to the donor along with a heartfelt thank you from Together We Cope.