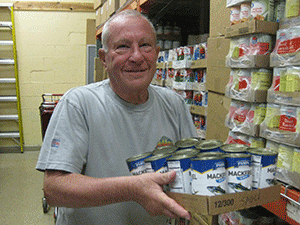 Together We Cope is always grateful for the efforts of its volunteers, but this year's Theodore H. Reimer Volunteer of the Year winner is actually grateful for Together We Cope.
Jerry Saletta, who works with vigor and good cheer in the food pantry, tells a story that sums up the reason for his labors. "I was at a party the day after Christmas, sitting at a table with three other retired gentlemen, and they were describing how they had trouble sleeping at night. They said they were bored in their retirement, and feeling miserable from health problems or inactivity. I suddenly realized how lucky I am to be volunteering at Together We Cope, how fortunate to have this opportunity. I am thankful that I'm healthy enough to work hard, and to do something so important to help other people."
Jerry finds another reason to spend so much time at TWC. "Absolutely, it's the camaraderie with the other people here that makes this work fun. It's a very important aspect of volunteering here. There are so many good people I meet and talk with every day."
Tony Roman, food pantry manager, refers to Jerry as part of "the backbone of the pantry operation" because he works so hard and cheerfully fills any need on any given day. He handles the rigorous task of managing the bread racks four days a week, as well as helping with the truck when necessary. "We couldn't do it without him," Tony said.
Jerry also was honored this spring during the 2018 Volunteer Appreciation Luncheon for the 1,047 hours of volunteer work he gave to our agency the previous year. "It is always a pleasure to see his smiling face as I pass through the pantry," said Kathryn Straniero, executive director, "and I'm sure that our clients also appreciate his demeanor."
Our Volunteer of the Year will be honored at the annual dinner dance on Friday, Feb. 15 at the Odyssey Country Club in Tinley Park.
[TWC Homepage]    [Nu2u Homepage]