We are always looking for auction items to feature at upcoming fundraising events, from sports memorabilia to items that can be included in gift baskets, such as gift certificates.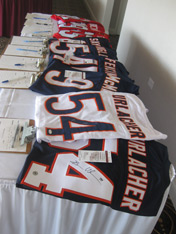 These donations make the auctions exciting at our annual dinner dance, pasta dinner and golf outing.
That's one of the reasons people have so much fun at our events. People love to find something special and to support Together We Cope at the same time.
Of every dollar raised by Together We Cope, 92 cents goes directly to client programs and services.
Donated items can be dropped off at the Together We Cope client services center, 17010 So. Oak Park Ave., or at our administrative center, 17728 So. Oak Park Ave. on Monday, Tuesday, Wednesday and Friday from 9 a.m. to 3 p.m. On Thursdays, our client service center is open from 2 to 7 p.m., and the administrative center is open from 11 a.m. to 5 p.m. Just mark the donation "attn: fundraising auction item."
To learn more about our annual fundraisers, click here.
Questions?
For additional information contact
Kathy Rogge at 708-263-0302, ext. 6101.