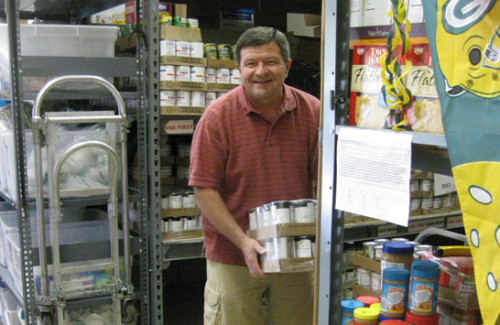 Donations to our food pantry are very important, helping us feed nearly 5,000 people a month—our neighbors in 27 south suburban communities, many of whom could not put food on the table without your help. Getting these items from Together We Cope enables our clients to spend their own money on rent or mortgage. That way, they can stay in their homes.
Nonperishables needed
baby food • beans • canned fruits and vegetables • cereal • jelly • pasta • peanut butter • rice • soup • tuna. Download a printer-friendly list of staples.
Grocery store gift cards
We also need gift cards to grocery stores in the south and southwest suburban area. These donations are welcome year-round but are particularly helpful during the holiday season.
Personal care products
These things are not covered by a Link card: bar soap • body lotion • body wash • dental floss • deodorant/antiperspirant • Q-tips (travel size) • razors • shampoo • shaving cream • toothbrushes • toothpaste. Download a printer-friendly personal care product list.
Baby care needs
baby lotion • baby shampoo baby wipes • diapers (especially sizes 4–6). Download a printer-friendly needs list for our youngest clients
Where to donate
You can drop off donations at the rear entrance of our food pantry at 17010 Oak Park Avenue in Tinley Park between  9 a.m. and 3 p.m. on Monday, Tuesday, Wednesday and Friday, and between 2 and 7 p.m. on Thursdays.
Host a food drive
For food drives: We're happy to provide bins and labels, in advance and to pick them up when they're full. Email George Rumbaugh, pantry services manager, or phone him at 708-633-5040, ext. 7228.
Available for download
Corporate Gifts
Large corporate gifts: For food companies seeking to donate large quantities, please email George Rumbaugh, pantry services manager, or phone him at 708-633-5040, ext. 7228.