Together We Cope food pantry needs your help year-round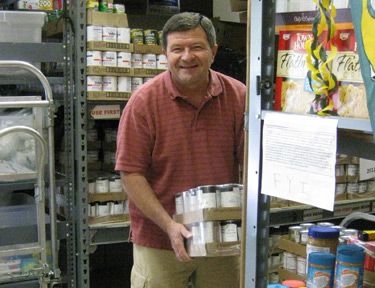 Click here for the Pantry schedule.
Donations to the Together We Cope food pantry are very important, helping us feed nearly 5,000 people a month—our neighbors in 27 south suburban communities, many of whom could not put food on the table without your help. Also, we buy food from the Greater Chicago Food Depository and receive some food at no cost from the U.S. Department of Agriculture. But donations from generous local businesses, restaurants, grocery stores, and community groups make an enormous difference.
Getting these items from Together We Cope enables our clients to spend their own money on rent or mortgage. That way, they can stay in their homes.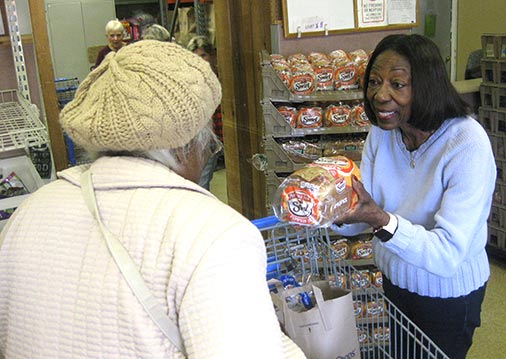 Every day staples
We always need boxed cereal, canned beans, canned fruit, canned vegetables, canned meats (chili, tuna, chicken, stew, etc.) canned soup, canned spaghetti sauce, jelly or jam, macaroni & cheese, oatmeal, pasta, peanut butter, rice, and tomato sauce. Click here for a list of foods that we always need.  [Home]
Baby needs and personal care needs
These things are not covered by a Link card: bar soap • body lotion • body wash • dental floss • deodorant / antiperspirant • Q-tips (travel size) • razors • shampoo • shaving cream • toothbrushes • toothpaste. Click here for a personal care needs checklist or click here for a baby care needs checklist.  [Home]
Grocery store gift cards
We also need gift cards to grocery stores in the south and southwest suburban area. These donations are welcome year-round and are particularly helpful during the holiday season.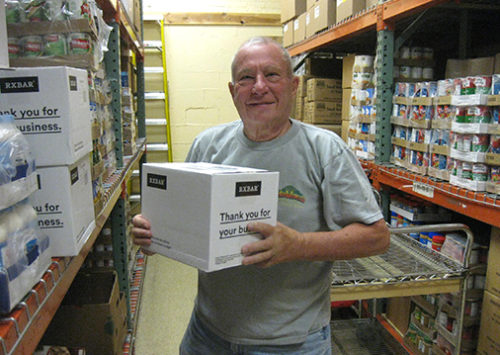 Where to donate
Bring donations to the rear entrance of our food pantry at 17010 S. Oak Park Avenue in downtown Tinley Park between 9 a.m. and 3 p.m. Monday, Tuesday, Wednesday and Friday, and on Thursdays between 2 and 7 p.m.  [Home]
Host a food drive, a personal care needs drive, or a baby needs drive

We're happy to provide you or your group with food drive bins and labels and to pick them up when they're full. Call our office manager at (708) 633-5040, ext. 7231.
Links to fact sheets available for download:
Links to bin labels available for download (the bin labels are 8.5 x 11 in black & white for easy output. Each label has a place to add the ending date of the drive):

Volunteer in our pantry
Stock shelves
Pack grocery bags
Drive our van to pick up food at local stores
To learn more, call our volunteer coordinator, Cathy Trongeau at at 708-633-5040, ext. 7211.  [Home]
Corporate giving
Businesses seeking to donate to our pantry, resale shop, or agency, please call Tina Kessens, office manager at (708) 633-5040, ext. 7231 – or –  Karen Moran, director of development, at (708) 263-0302, ext. 6104.  [Home]
If you, or someone you know needs food
Your ID and a piece of mail, postmarked within the last 60 days that shows your current address are required. Individuals residing within our service area are eligible to receive groceries for themselves or their families once a month. Individuals who do not live within our service area are allowed one bag of emergency food, one time per year.
"The staff is very friendly and knowledgeable very helpful to the clients needs, this would be the one charity that I wouldn't mind giving back to. Great Job Guys!" — Shalana
[TWC Homepage] [Nu2u Homepage]