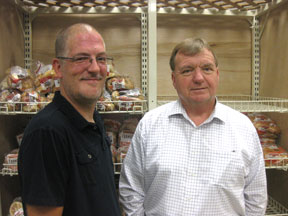 When George Rumbaugh retired as Together We Cope's pantry manager this fall and Tony Roman took on the job, it soon became apparent the two men shared a common goal.
"In general, I've always wanted to give as much food as we can to the families who come to us for help each day," George said as he reflected on his six years with the pantry. "I've tried to make it fun, networking with other agencies or farmers to get a lot of different kinds of food into our pantry. And people are very appreciative of what they can receive here at Cope, they tell us that all the time."
Tony expressed the same sentiment shortly after taking over as pantry manager. "Sometimes pantry workers ask me where to store the food coming in, and I tell them to distribute as much as possible to the hungry at our door that day. Feed the people, man!" he says of his approach to the job.
George and Tony have a number of other things in common. They are both Tinley Park residents, and both volunteered at TWC before coming on staff. Both also have experience in the food handling business. George retired after 42 years at Jewel Foods, including a long time as store director of the Frankfort Jewel. Tony was warehouse manager at Eat Enterprises, which delivers meals to schools. He also has had several restaurant serving jobs.
"In this job I see the reality of what a lot of people are dealing with in our economy today," Tony said. "And I get to know our clients, that's nice. They tell you their stories and you understand what they are facing. I find that to be much more powerful than helping out in other ways. I believe that feeding people is the most important thing you can do."
George agrees. "It's a shame in this country that we have to feed so many, especially when Americans throw away so much food. I notice how committed our volunteers are to their specific roles in the pantry, how hard they work to help our clients, so I know they are feeling that too. We are an impressive operation here at Together We Cope."
In his retirement, George plans to spend more time with his wife Cathy, six children and nine grandchildren. "I'd like to see what life is like when you are not working," he quipped.
Further information on Together We Cope's food pantry is available from Tony Roman at 708-633-5040 ext. 7228.
[TWC Homepage] [Nu2u Homepage]


Together We Cope assists neighbors in need in four townships bounded by 87th street on the north to 183rd Street on the South, and between Will-Cook Road (County Line Road) on the west and Western Avenue on the east. Residents of this area (excluding the Mt. Greenwood neighborhood) are eligible for assistance from Together We Cope.