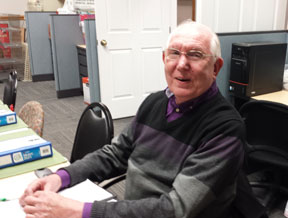 Don Schupek is a man who likes to be busy. He had a career in administration, and also served his community of Posen for 17 years as mayor. "While in office, I made myself visible in the community and the region in order to be effective," he recalls, describing many events he attended over the years in order to advocate for his village.
Don has lived his entire life in Posen, as did his family, and now resides in a home he built on his grandfather's property.
Even today as a retiree he is busy, working with the Posen Seniors and Midlothian Chamber of Commerce. Now he's joined the Together We Cope board of directors, where he hopes to contribute his experience and wisdom in helping the agency to achieve its objectives.
Don made many connections in the region while he served as mayor of Posen, and those contacts now will benefit Together We Cope. In fact, he met TWC board member Pat McKernan and TWC executive director Kathryn Straniero through his community involvement and that is how he became aware of TWC.
"I was aware of Together We Cope, but learned more about it through my work as mayor," he said. "I knew you served a lot of families in the region, and now that I know more about the agency I am amazed at the number of volunteers who work with you. It's next to impossible to get volunteers today."
Don said he knows that funding is a major issue for all nonprofits, and hopes that he can help in that regard. "I think there's more people today who really need help, and I'd like to work toward increasing Together We Cope's funding so we can meet those needs."